ANZAC 2011
ITINERARIES
2 DAY ANZAC DAY TOUR
24th April - 25th April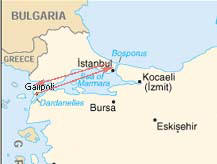 HIGHLIGHTS:
# SERVICES of LOCAL TURKISH GUIDE
# FULLY GUIDED TOUR OF GALLIPOLI Peninsula memorial sites including ANZAC COVE, LONE PINE (AUS Memorial), CHUNUK BAIR (NZ Memorial) and other gravesites and memorials as time permits.
# ANZAC DAY MEMORIAL SERVICES
# SOUVENIR T-SHIRT
# NO OVERNIGHT DRIVES # NO CAMPING
Day 1 - 24 April 2011
Check in - Istanbul
Own arrangements to Istanbul. Check in with PP Travel Rep outside the Hagia Sophia Museum (red mosque) at 6:30am, we then depart for Gallipoli, stopping along the way so you can have some breakfast before our arrival at the cove. On the tour to ANZAC Cove you learn of the fate of over 10,000 Australians and New Zealanders. We visit the memorial sites at ANZAC Cove, Shrapnel Valley, Conkbay Hill, Lone Pine and Chunuk Bair as well as other cemeteries as time and conditions permit. We then tour the Kabatepe Museum and orientation centre. You then have the opportunity to secure your spot for the dawn service as we drop you at Anzac Cove mid afternoon giving you plenty of time to soak up the atmosphere and witness first hand the ANZAC spirit and comraderie as you meet thousands of other Aussies and Kiwi's who are also here on the same pilgrimage.
Day 2 - 25 April 2011
Gallipoli - Memorial Service - Eceabat or Istanbul
This special day starts very early for the dawn service. It is a good idea to bring sleeping bag and warm clothes, as it can get very cold in the early hours. After the Dawn Service you are free to attend the Australian Memorial Service at Lone Pine and the New Zealand Memorial Service at Chunuk Bair. We then drive back to Eceabat where the tour finishes and you make your own onward travels. We will also drop back at Istanbul arriving late evening about 9pm. No accommodation is provided this evening.
Price: 99 £

*** Terms and Conditions!

For the dawn service please bring your own sleeping bag and thick clothes.