ANZAC 2011
ITINERARIES
9 DAY ANZAC DAY TOUR:
TOUR DATES: 18th April - 26th April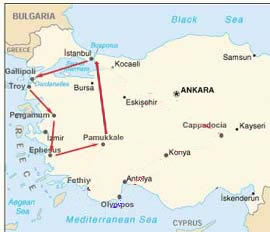 HIGHLIGHTS:
# SERVICES of LOCAL TURKISH GUIDE;
# ISTANBUL CITY TOUR; # TROY;
# EPHESUS; # BURSA; # FULLY GUIDED TOUR OF GALLIPOLI Peninsula memorial sites including ANZAC COVE, LONE PINE, CHUNUK BAIR, other grave sites and memorials as time permits. # ANZAC DAY SERVICES; # SOUVENIR T-SHIRT;
# PAMUKKALE; # KUSADASI; # NO CAMPING; # OPTIONAL TURKISH CABARET; # OPTIONAL CRUISE
Day 1 - 18 April 2011
Check into Hotel- Welcome meeting - Istanbul
Check into your city centre hotel and be greeted by your PP Rep through out the day. This evening we will meet for a welcome briefing at 6:30pm where we will go over itineraries and the tour and meet our local Turkish guide and fellow travellers. After the briefing we then have the opportunity to experience the nightlife that Istanbul has to offer.
Day 2 - 19 April 2011
Istanbul City Tour
After breakfast we take you on a guided tour of Istanbul to introduce you to some of the many special sights the city has to offer. Included in the tour are the Hippodrome, the Blue Mosque and underground Cistern. We will also have the opportunity to visit a traditional carpet shop to experience how these magnificent products are produced. The afternoon will be free time so perhaps start off with a Turkish Bath.
Tonight we offer an optional Turkish cabaret with entertainment acts aplenty and the most beautiful belly dancers you will ever see. There are a couple of drinks included in the price as well as a four or five course meal. Cost is just £45 per person and it is highly recommended.
Day 3 - 20 April 2011
Depart Istanbul to Pamukkale
Today we head south to the former capital of the Ottoman Empire, Bursa. See the Ulu Mosque (Grand Mosque) and the authentic Silk Bazaar. Then drive to Pamukkale where we stay overnight.
Day 4 - 21 April 2011
Kusadasi
After the breakfast visit the calcium terraces of Pamukkale and the ruins of Hierapolis, an ancient Roman resort city, before arriving at the Aegean coastal town of Kusadasi where we stay overnight.
Day 5 - 22 April 2011
Kusadasi - Ephesus
After breakfast we take a tour of Ephesus. This magnificently preserved ancient Greco-Roman town will give you an excellent insight into an historic civilization. We then visit the house of the Virgin Mary. We take the opportunity to visit a traditional carpet and leather factory. Then it's a free evening to enjoy the party atmosphere of Kusadasi.
Day 6 - 23 April 2011
Pergamon and Kucukkuyu
Today we visit Pergamon which was a dazzling center of cultural activity in ancient times. The Asclepion was a healing center and shrine to the demi-god of healing, Asclepius. Therapy with music and the sounds of water was first used here. The ruins of this great city dominate the top of the hill while buildings from later eras cling lower down at the hill's foot. It was the capital of the Roman province of Asia and had one of the two largest libraries in the ancient world. One of the seven churches of the Apocalypse is here. The Altar of Zeus, referred to as the " Throne of Satan " in the book of Revelation is also located here. Those who visit it, love it. Tonight we stay overnight in Kucukkuyu.
Day 7 - 24 April 2011
Troy and Gallipoli
First we will visit the ancient city of Troy and then drive to Anzac Cove. On the tour to ANZAC Cove you learn of the fate of over 10,000 Australians and New Zealanders. We visit the memorial sites at ANZAC Cove, Shrapnel Valley, Conkbay Hill, Lone Pine and Chunuk Bair as well as other cemeteries as time and conditions permit. We then tour the Kabatepe Museum and orientation centre (although this may occur at the start of the cove tour). You then have the opportunity to secure your spot for the dawn service as we drop you at Anzac Cove mid afternoon giving you plenty of time to soak up the atmosphere and witness first hand the ANZAC spirit and comraderie as you meet thousands of other Aussies and Kiwi's.
Day 8 - 25 April 2011
Dawn and Memorial services
4:30am - This special day starts very early for the emotional and moving dawn services. It is a good idea to bring sleeping bag and warm clothes, as it can get very cold in the early hours. After the Dawn Service you are free to attend the Australian Memorial Service at Lone Pine and the New Zealand Memorial Service at Chunuk Bair. We then drive back to Istanbul giving you time to reflect on the day.
Upon arrival in Istanbul we get you checked into your city centre hotel. All rooms are twins, doubles or triples. There is no specific event organised for this evening as we are not exactly sure of what time we will arrive in Istanbul although we expect it to be around 9pm. This is our last evening together and a great opportunity to go out and farewell new found friends.
Day 9 - 26 April 2011
Check Out
After breakfast you need to check-out of the hotel. If you are staying on we can also arrange for you to go on the Bosporus cruise in the afternoon cost £20. Otherwise perhaps try a Turkish Bath if you have not already experienced one on the tour.
Price: 329 £