Anzac Day Tour 2006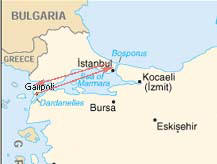 (9 Days Itinerary)
DAY 1: Saturday 23rd April - Arrive Istanbul - Welcome meeting - City tour
Own arrangements to Istanbul. Mid Morning Meet with your Turkish Guide, we will then introduce you to some of the cities many sights on our city tour. Included in the tour are the Underground Cistern, Hippodrome and the Blue Mosque. Mid afternoon we drive to Eceabat arriving early evening, Eceabat is the closest town to Anzac Cove and best of all you are in the centre of the pre-Anzac Day commemorations. The rest of the evening is free to relax and enjoy the town of Eceaabat. Overnight in Eceabat.
DAY 2: Sunday 24th April - Cove Tour -Gallipoli (Eceabat)
Today we take you on a full day tour to ANZAC Cove to learn of the fate of over 10,000 Australians and New Zealanders. We provide packed breakfast today. We visit the memorial sites at ANZAC Cove, Shrapnel Valley, Conkbay Hill, Lone Pine and Chunuk Bair as well as the many cemeteries. We then tour the Kabatepe Museum and orientation centre. Tonight we are back in Eceabat, you have the evening free to relax and prepare for a long day tomorrow. Packed breakfast,
DAY 3: Monday 25th April – Dawn Service - Memorial Service – Kusadasi
We arrive at ANZAC Cove giving us plenty of time to take our positions for the Dawn Service. A packed breakfast and lunch is supplied. It is a good idea to bring sleeping bag or thick clothes as it can get very cold in the early hours. After the Memorial Services we drive back to Eceabat to get the ferry to cross Dardanelles. We will visit the ancient city of Troy and then drive to Kusadasi for overnight. Packed breakfast & lunch.
DAY 4: Tuesday 26th April - Kusadasi
Today we visit the archaeological wonder that is Ephesus. This magnificently preserved ancient Greco-Roman town will give you an excellent insight into an historic civilization. We then visit the house of the Virgin Mary. We take the opportunity to visit a carpet and leather factory. Free evening to enjoy the area of Kusadasi. B
DAY 5: Wednesday 27th April - Kusadasi (Ephesus)
After breakfast today you have the day free to take in the sights of Kusadasi or relax and eat seafood for which Kusadasi is famous. B
DAY 6: Thursday 28th April - Pamukkale
After breakfast we travel to Pamukkale and the famous 'Cotton Castle', the calcified basins with the naturally hot mineral water cascading down the hillside. We also wisit the archeological site of Hierapolis. Overnight in Pamukkale. B
DAY 7: Friday 29th April – Afyon
Today we stay in Afyon, famous with the hot springs. Please make sure you have your swimming suits with you. Overnight in Afyon.
DAY 8: Saturday 30th April - Afyon - Istanbul
After breakfast this morning we depart for Istanbul via Kutahya. Kutahya is a thermal centre and one of the oldest cities in Turkey with many old Turkish traditions still being practiced today. We will arrive early evening to check into our hotel at Istanbul. Tonight as an option we have a chance to go to a traditional Turkish belly dancing show with dinner and drinks £25. B
DAY 9: Sunday 1st May - Istanbul.
Check out of our hotel after breakfast. Before making your own onward transport arrangements, you can join us and experience the feeling of invigoration with a traditional Turkish bath, or take the chance to go on a last-minute shopping spree in Istanbul's famous Grand Bazaar. If you are staying on an extra night we can also arrange for you to go on the Bosporus cruise cost £10 in the afternoon. B
For the Dawn Service please bring your own sleeping bag and thick clothes (since it is cold in the early hours of the morning)
For the Dawn Service please bring your own sleeping bag.

Price: 315 £
Deposit 50£
The price is per person for double occupancy rooms. Single supplement is 40 £ "Single room is not avaliable in Eceabat"