ANZAC 2008
COMING SOON !!!
5 DAY (A) ANZAC DAY TOUR: 22rd April - 26th April
Istanbul - Gallipoli - Istanbul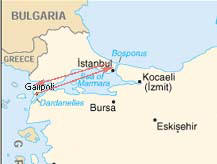 HIGHLIGHTS;
NO OVERNIGHT DRIVE; NO CAMPING; LOCALLY GUIDED TOUR OF ISTANBUL; including BLUE MOSQUE, HIPPODROME and UNDERGROUND CISTERN; BREAKFASTS; FULLY GUIDED TOUR OF GALLIPOLI Peninsula memorial sites including ANZAC COVE, LONE PINE (AUS Memorial), CHUNUK BAIR (NZ Memorial) and more; ANZAC DAY MEMORIAL SERVICES; Packed BREAKFAST on Anzac Day; TROY; Kucukkuyu beach side town; SERVICES of a TURKISH GUIDE;
Tour Itinerary
Day 1 Saturday 22nd April Istanbul- Welcome meeting – City tour - Istanbul
Own arrangements to Istanbul. Check into your city centre hotel and be greeted by your PP rep. All rooms are twins, doubles or triples. At 1430 (2.30pm), meet your Turkish guide and PP rep along with fellow travellers; we will go over the itinerary and timings for the tour in detail, this briefing will be held in the hotel's bar/reception area. We then take you on a city tour of Istanbul and introduce you to some of the cities many sights. Included are the Hippodrome, the Blue Mosque and Underground Cistern. In the evening we offer you the opportunity to experience a traditional Turkish belly dancing cabaret show with dinner and drinks cost £30.
Day 2 Sunday 23rd April Istanbul - Kucukkuyu
After breakfast this morning we depart Istanbul and head to the beautiful beach side town of Kucukkuyu, arriving early evening giving you an opportunity to experience the beautiful area.
Day 3 Monday 24th April Troy - Anzac Cove Tour
After breakfast we take the short drive to Cannakale via Troy. After we visit Troy we will catch the ferry across the Dardanelles and take you on a fully guided tour of ANZAC Cove to learn of the fate of over 10,000 Australians and New Zealanders. We visit the memorial sites at ANZAC Cove, Shrapnel Valley, Conkbay Hill, Lone Pine and Chunuk Bair as well as the many cemeteries. We then tour the Kabatepe Museum and orientation centre entrance fee included. You then have the opportunity to relax before we taking up our spot you at Anzac Cove for the Dawn Service.
Day 4 Tuesday 25th April Memorial Service - Istanbul
A packed breakfast is supplied today. It is a good idea to bring a sleeping bag and warm clothes, as it can get very cold in the early hours. Later you can attend the Australian Memorial, Lone Pine and the New Zealand Memorial Service at Chunuk Bair. After the ceremonies we drive to Istanbul, this is our last evening together and a great opportunity to go out and farewell new found friends
Day 5 Wednesday 26th April Istanbul
Check out of our hotel after breakfast. Make your own onward transport arrangements, or we can show you where to experience the invigoration of a Traditional Turkish bath, or you can take the chance to go on a last-minute shopping spree in Istanbul's famous Grand Bazaar. We can also arrange for you to go on the Bosphorus cruise in the afternoon, Cost £15.
Price: 209 £
For the dawn service please bring your own sleeping bag and thick clothes.