ANZAC 2008
COMING SOON !!!
8 DAY ANZAC DAY TOUR
22nd April - 29th April
Istanbul - Gallipoli - Troy - Ephesus - Istanbul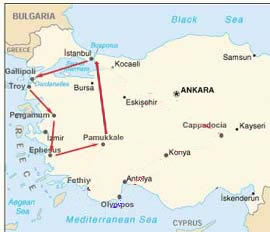 HIGHLIGHTS;

FULLY GUIDED TOUR OF ISTANBUL; including BLUE MOSQUE, HIPPODROME and UNDERGROUND CISTERN; FULLY GUIDED TOUR OF GALLIPOLI; including ANZAC COVE, SHRAPNEL VALLEY, CONKBAY HILL, LONE PINE (Aussie Memorial) AND CHUNUK BAIR (Kiwi Memorial); ANZAC DAY MEMORIAL SERVICES; TROY; Eceabat; Ayvalik; KUSADASI (Ephesus); Packed BREAKFAST provided for Anzac day;
Tour Itinerary
DAY 1: Sunday 22nd April – Check in - Istanbul
Own arrangements to Istanbul. Check into your city centre hotel and be greeted by your PP rep. All rooms are twins, doubles or triples. This evening we meet your Turkish guide and fellow travellers; we will go over in detail the itinerary and timings for the up coming days. We then have the opportunity to experience a traditional Turkish belly dancing cabaret show with dinner and drinks cost £30.
DAY 2: Monday 23rd April – Istanbul – City tour - Gallipoli (Eceabat)
After breakfast, we take you on a city tour of Istanbul and introduce you to some of the cities many sights. Included are the Hippodrome, The Blue Mosque and Underground Cistern. We then head to Eceabat, the closest town to ANZAC Cove and while the local pensions are basic, they are the best in town … and you are not camping, best of all, you are in the centre of the Anzac commemorations.
DAY 3: Tuesday 24th April – Anzac Cove Tour -Gallipoli (Eceabat)
Today we take the short drive to the Gallipoli peninsula for a fully guided tour. You will be provided with breakfast and a packed lunch, as we visit the memorial sites at ANZAC Cove, Shrapnel Valley, Conkbay Hill, Lone Pine and Chunuk Bair as well as the many cemeteries. We then tour the Kabatepe Museum and orientation centre. Arriving back at Eceabat with enough time to relax and get any last minute supplies before heading back to the Peninsula to get your spot at Anzac cove for the dawn service.
DAY 4: Wednesday 25th April – Dawn Service - Memorial Service – Ayvalik
A packed breakfast is supplied today. It is a good idea to bring a sleeping bag and warm clothes, as it can get very cold in the early hours. Later you can attend the Australian Memorial at Lone Pine and the New Zealand Memorial Service at Chunuk Bair. After the Dawn Service, and the Aus or NZ Memorial Services we drive back to Eceabat and catch the ferry across the Dardanelles. We will visit the ancient city of Troy and then drive to the beach side town of Ayvalik.
DAY 5: Thursday 26th April – Kusadasi (Ephesus)
After a leisurely start we drive to Kusadasi taking in the archaeological wonder that is Ephesus. This magnificently preserved ancient Greco-Roman town will give you an excellent insight into an historic civilization. We then visit the house of the Virgin Mary. We take the opportunity to visit a traditional carpet and leather factory. Then it's a free evening to enjoy the area of Kusadasi.
DAY 6: Friday 27th April - Kusadasi
After breakfast today you have the day free to take in the sights of Kusadasi or relax and eat the seafood for which Kusadasi is famous.
DAY 7: Saturday 28th April – Kusadasi - Istanbul
After breakfast this morning we travel north with a long drive back to Istanbul. We arrive early evening and check into our hotel.
DAY 8: Sunday 29th May - Istanbul
Check out of our hotel after breakfast. Make your own onward transport arrangements or we can show you where you can experience the feeling of invigoration with a traditional Turkish bath. Alternatively you could take the chance to go on a last-minute shopping spree in Istanbul's famous Grand Bazaar. If you're staying on we can also arrange for you to go on the Bosphorus cruise in the afternoon cost £15.
Price: 299 £
For the dawn service please bring your own sleeping bag and thick clothes.